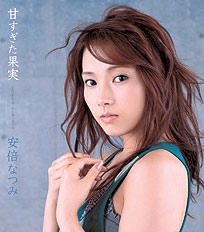 For the moment, I have 3 votes for an English Blog & 1 for a French Blog. So for the moment, the blog will be in English !
The vote will be close on Tuesday. I will announc the langage this day.
For my 1st Meganekko article, I wanted to talk about a singer : Natsumi Abe. I don't like her song (exept Koi no Telephon GOAL) but I heard her new single : 甘すぎた果実 (Amasugita Kajitsu).
This song is absolutely fabulous ! It sounds like a summer song. The chorus is beautiful with high parts (good luck for Nacchi in concert). The rythm is quite good too. This song remind me a French song of Lorie (Sur un air latino if I well remember). But Nacchi's song is 10000000000000000000x better.
I watch the PV too. It is cheap (like a lot of H!P Pvs now) but it is beautiful. Nacchi is n an old house and sing sit on a sofa. No dance but a very beautiful close up with flowers and some weird things. At the end 2 Nacchi's sing. There is no story but that's not grave.
Nacchi is cute with her hair cut (the same as the cover). Please ! Listen the song and tell me your opinion. Especially for people who do not like Nacchi's song too, like me.
☆彡☆彡☆彡☆彡☆彡☆彡☆彡☆彡☆彡☆彡☆彡☆彡☆彡☆彡☆彡☆彡☆彡☆彡
☆彡Kikimasu☆彡Amasugita Kajitsu- Abe Natsumi
☆彡Free talk☆彡Today is my 1st Japanese lesson of the year ! I hope the teacher will be the same as last year !