I want to present a singer that I discovered a lot of month ago but that I recently started to listen : Tokito Ami !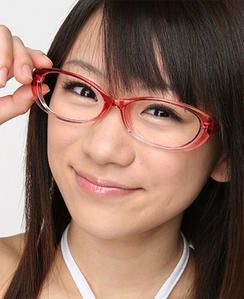 Biography :
One of the winners of Miss Magazine 2005 Tokito Ami made her debut as a gravure idol in May 2005 with her first DVD. She released another DVD before her first photobook was released.
What makes Ami so attractive to fans are her trademark glasses, as she is rarely seen not wearing them. While most gravure idol do wear glasses when they're not in front of cameras, few wear them in front of camera when it isn't candid or for cosplay. Because of this, Ami is known as a "megadol", short for "meganekko idol". Ami has actually admitted to having 1.5 eyesight in each eye.
During her time on the Miss Magazine futsal team, Ami acted as goalkeeper and instead of glasses, she wore goggles to protect her eyes.
As a child, Ami was part of a local theater company during her fifth grade year in 1998. She was also in the drama Sensei Shiranai no?
Ami's first single Sentimental Generation is produced by Tsunku. Its main song and the b-side are being used as the opening and ending themes (respectively) for the anime School Rambel Nigakki
Profile:
Name: Tokito Ami (時東ぁみ)
Alternate spelling: 時東あみ
Nicknames: Amitan, Aminii
Real name: Komatsu Yukie (小松幸江=
Birthdate: September 25, 1987
Birthplace: Tokyo
Blood Type: O
Height: 154cm
Bust: 85cm
Waist: 58cm
Hips: 83cm
Shoe size: 24cm
Hobby: Emailing
Skill: Basketball
Person respected: Basketball coach

Profile:

DVDs
[2005.05.28] Takahashi Sachiko and Tokito Ami (with Takahashi Sachiko)
[2005.06.07] Occhiali|occhiali
[2005.10.21] Tokito Ami Miss Magazine2005
[2005.11.25] Tokito Ami Tenshi no Itazura
[2005.11.25] Megane no Bakayaroo
[2006.04.01] Music V Tokushuu 1 ~Pineappo!~
[2006.06.14] Hatsu Live '06 Haru ~The Nakano Sampler~

Photobooks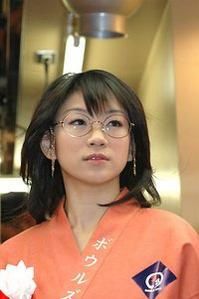 [2005.08.24] KI.MA.JI.ME
Singles
[2006.04.19] Sentimental Generation
[2006.07.12] Sora Kara ~CRY FOR HELP!~
[2006.11.01] I'm a lady ~Jirettai Watashi~
Mini-Albums
[2005.12.07] 1 Sanagi no Bathrobe
[2006.03.15] 2 Suki desu...
My opinion:
Few month ago, I discovered this singer. and the fact she is produce by Tsunku but not in H!P.
I thought her megane (glasses) are not very pretty and I di not listen her song.
And 3 days ago, I visited Tsunku new company website. On the main page is the new PV of Ami. I fell in love with that song (I'am a lady jirettai watashi) So I wanted listen her other song.
And I love. In some song whe do not have a wonderful voice but she is a better singer than some other Japanese girls. Her songs are really sympathic. Especially Sentimental Generation, I'm a lady & 21 Seiki Made Aishete & Melon no Tameiki.
oOoOoOoOoOoOoOoOoOoOoOoOoOoOoOoOoOoOoOoOoOoOoOoO
oOKikimasuOo Jiriri Kiteru - Berryz Koubou
oOFree TalkOo We laught a lot today ! Oh ! I updated my idol Ranking !