Koha is a star ! Risako is a sexy kid
I talk so much about H!P now but they have so many news !!! I promise that my next article will be on an other subject than H!P.
Well, this is an article that all (almost?) Islanders will love because I'll talk about... KOHARU KUSUMI & SUGAYA RISAKO ! (enjoy !)
☆彡1st : Koha☆彡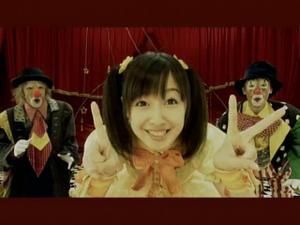 Our little little girl from the 2005 Audition is far. She is now a great soloist (she is still in MM) who released 1 single (which sold very well with 38,650 singles sold ! ).
Little reminder : her new single "Balalaika" wil be release on October 25th & her 1st mini album on October 18th (not really hers because it is Kirarin Revolution album and °C-ute & SHIPS will be featured in).
Her new song's PV is avaible since yesterday. It is a simple but so adorable PV. We can see Koha in her cute yellow/orange costume, dancing, singing (of course), playing with clowns & do some magical turns (right word ?). She is freaking cute with all smiles, Vsigns, heart signs...
Don't miss the close up (a funny thing is that her hair don't move so much even she move her head) & the dance ~~> so Russian.
I love the PV for all the "reasons" I said. I hope all her future single will have PV like that. She do not have the greatest voice of the world but she have a little thing that we know that Tsunku was right : She is a miracle.
She is a miracle for sold almost 39,000 copies of her 1st single. She is a miracle to be soloist after 1 year of careeer. She is a miracle to be soloist instead of Momusu's best voices.
Balalaika is her BEST SONG. It is a lot better than Koi*Kana (even I love that song too). The Russian them was a great idea. That gives something original to the song. The chorus is the best part of the song.
Koha is not a great singer yet but I think she sounds better in solo. That's quite normal because almost all MM sing better than her.
Anyways, Koha has something weird in her voice .. Like if she can't "hold" the notes too a long time.
DOWNLOAD PV





DOWNLOAD BALALAIKA MP3
☆彡2nd : Risako☆彡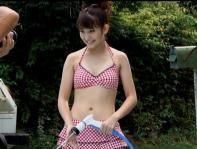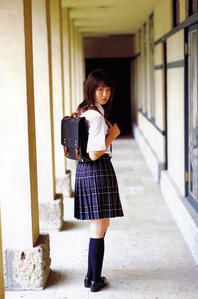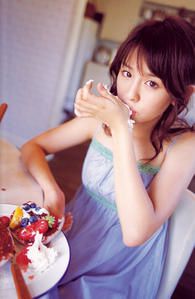 Risako released her 1st solo photobook fews days ago. As in all H!P solo PB, we can see her on school uniform, in dress, eating.... and in bikini. Reminde me her age ? 12 years old ? :droool:
it is not sexy bikinis (don't cry wotas XD). Her bikinis are cute (especially the red & white one).
Her school uniform is quite banal. Dress too. The best photos seems to be with her white bikini.
We have very few previews but she seems to not smile very often. That's a pity ! She has a beautiful smile. BUT SHE IS DAMN CUTE EVEN WITHOUT SMILE :drool:. I want to buy it (but I already have so MANY things to buy.....)
I am waiting for the whole PB to say more and eventually see if I'l buy it.
PS : This article is for all Wotas, Pedo, Islander (one second... Islander MUST be Pedo & Wotas no ?XD)
See you on the island :fear: :miki: :miki: :miki:
Other H!P things :
Nacchi's single sold 17,203 copies
Maki's single debuts at #3 and is #6 now.
The possible has now 5 members and will release a cd on October 22th
☆彡☆彡☆彡☆彡☆彡☆彡☆彡☆彡☆彡☆彡☆彡☆彡☆彡☆彡
☆彡Kikimasu☆彡 V-u-den - Hitorijime
☆彡Free Talk☆彡Finally the weekend !!!