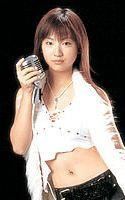 B O N B O N B L A N C O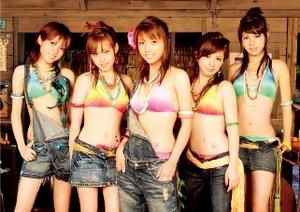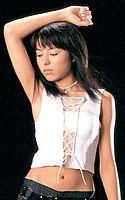 Members
Santos Anna (Vocals)
Mako (Maracas)
Tomoyo (Timbales)
Izumi (Conga)
Ruri (Bongo)
Discography
Albums
[2003.03.26] Beat Goes On|BEAT GOES ON
[2004.03.24] B3 Master Pieces 2002-2004|B3 Master pieces 2002-2004
Singles
[2002.09.11] Datte, Onna no Ko Nandamon
[2002.07.17] Ai Want You!!|AI WANT YOU!!
[2002.12.04] Ai no Nurse Carnival
[2003.02.19] Namida no Hurricane
[2004.01.14] Bon Voyage!|BON VOYAGE!
[2004.07.14] Tenohira wo Taiyou ni (BBB)|Tenohira wo Taiyou ni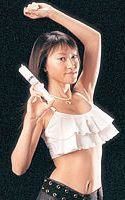 [2004.09.01] La La Kuchibue Fuite Yukou
[2004.12.15] Winter Greetings
[2005.02.23] Ai ga Ippai
[2006.08.30] Yura Yura Yureru
DVD
[2004.03.24] B3 Master Clips 2002-2004
BON-BON BLANCO (or "B3" for short) is a group of five girls: four percussionists and one singer. Their upbeat, danceable songs are often found as opening themes for anime such as One Piece (Bon Voyage!) and Get Backers (Namida no hurricane).
~~~~~~~~~~~~~~~~~~~~~~~~~~~~~~~~~~~~~~~~~~~~~~~~~~~
I only had the Bon Voyage! mp3 & I have to say that I hated the song. One night, I was bored so I searched some video of her on Youtube. I fond Yura Yura Yureru & after Namida no hurricane.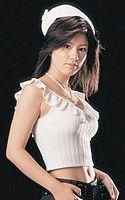 It's a SO GOOD song. For the moment it is my favorite. I love the chorus.
The PV is great too (especially the dance & the fact that it is in black & white).
I think I like this group because the concept is original : one singer & 4 percusionnists. This is the only band like that.
Anna's voice is enough beautiful to be the main (the only) singer. For Namida no Hurricane, exept the JUMP on the chorus we don't heard the other girls AT ALL (singing). but we can perfectly heard the percussion which give to the song an "exotic" style.
They are GREAT dancers too. They are awsome when they dance. Especially in N no H PV (in the musical pont !).
For ther last single : Yura Yura Yureru, I think that it is a horrible song. I like only the chorus & I prefer listen Anna singing instead of rapping. Don't say that she is bad at rapping, but I think it is a pity that we only hear her singing in the chorus....
For the moment, I know only 4 songs of them & I need to listen more songs of them but I can already say that I will follow their career without being a fan like I be with Harenchi*Punch or Hello!Project.
And because of this group, I want to learn percussions too ! XD
Do you know & listen them ?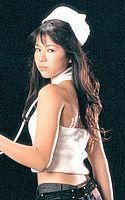 DOWNLAOD & VIEW
~~~~~~~~~~~~~~~~~~~~~~~~~~~~~~~~~~~~~~~~~~~~~
~Kikimasu~ Tanaka Rie - Fields of hope
~Free Talk~ "I love France because the bene are very sweet" XD Hana !