Today was a bad day for all °C-ute fans.
This morning an announce was post on Hello Project Official Site. It was a message from Murakami Megumi, H!P kids & °C-ute member.
She said that she'll stop her activities as °C-ute & H!P member from now to concentrate on her studies & on a normal student life.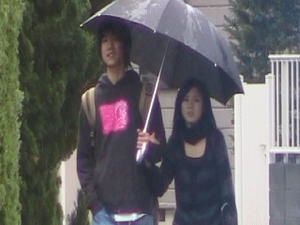 Announce
This announce was made few days after paparazzi takes photos of Megumi & & boy who supposed to be her boyfriend !
Photos was show on Internet only (not in magazine). but we can think that she leaves H!P before has the scandal. On her message, she thanked Tsunku, staff & fans. If she was forced to leave by Tsunku, she would not thanked him. So I think it is her decision.
Let's continue wth bad news. The new Hinoi Team single is CANCELLED. Not even reported....
The kaisan is for soon. Asuka can't wait for her solo career. Let's wait for a single for later of for a graduation.
But there was some good news today !!!!
1st, applause for Kusumi-chan's EXELLENT score on Oricon ranking : #8 with 28,132 copies sold !!!!
That's 10,000 copies better than Koi Kana ! Koharu is REALLY a miracle ! But what's the reason for her to make a so good score ? Because she gains popurality with Kirarin Revolution ? because the song is A LOT better than Koi Kana ? This 2 reason are Ok. For doing a great solo career Tsunku puts her in the MM's main singers. After Balalaika succes, we can expect a good score for MM too. Maybe on 40k for 1st week.
°C-ute did a great job too with 13,402 copies of their debut album sold. This is VERY good if we look at berryz' s album 1st week score (around 11K for each Berryz full album).
I don't look at other groups/Solo singer because it is not comparable.
Now Megumi is gone °C-ute will sell that well ? Not sure. She was a lead singer and pretty popular (but nos as Airi I think). Maybe their score will be baddest. maybe better ? Let's wait & see°C-ute DEBUT SINGLE !!!!!
Megumi announce it on her message ! °C-ute debut single is for February 2007 with 7 members. I really can't wait. °C-ute will have their 1st live tour in 2007 too. 4 concerts in 2 dates.
http://img174.imageshack.us/my.php?image=4553qu6.jpg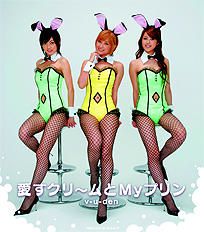 On an other hand, V-u-den new single cover was revealed today. Pretty weird no ? V-u-den always had strange costumes but THAT !!! Erika looks the best. Rika's hair just suck even she has a beautiful smile. And I have no opinion on Yui. She looks like other singles (prettier?). I really wonder what the will sound. Like Issai Gassai ? Or a ballad ? It is always difficutl to judge on a title & on a cover.
Always on H!P, someone listened to an UFA phone call saying there will be a new group by the end of the year: Sugaya Risako, Kusumi Koharu, Yajima Maimi. Group name: SKY.
It seems that Umeda Erika (SKU) or Suzuki Airi (SKA) are on the competition too. With the popularity ok Koha & Risako (because of her photobook) this unit will rocks !
2 latest news for H!P. Berryz's play with Melon Kinenbi have a name :
Title: Edo kara Chakushin!? ~TIME SLIP to Kengai!~
DVD: PKBP-5059
Release Date: January 17th
Price: 3,990 Yen
Melon Kinenbi Best album have a title : Fruity Killer Tune & a tracklist (not really a tracklist, it is just the result of the poll which was on H!P official site)
01. Akai Freesia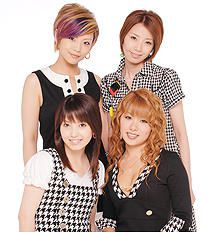 02. This Is Unmei
03. Saa! Koibito ni Naruo!
04. Kousui
05. Kawaii Kare
06. Onegai Miwaku no Target
07. Saa, Sassoku Moriagete Ikou ka~!!
08. Girls Power, Aisuru Power!
09. Enryo wa Nashi yo!
10. Nikutai wa Shoujiki na EROS
11. Denwa Mattemasu
12. MI DA RA Matenrou
13. Skip!
14. Chance of LOVE
15. Natsu no Yoru wa Danger!
16. ENDLESS YOUTH
17. Kokuhaku Kinenbi
18. Namida no Taiyou
19. Champagne no Koi
10. Natsu
I am happy because the 3 songs for I voted are on the top 20 :
1st: Nikutai wa shoujiki na EROS
2nd: Saa, Sassoku Moriagete Ikou ka~!!
3rd: Chance of Love
Just a news for Girl's Box fans ! The next Girl's Box concert's name is : "Re-born" & will be on 200/01/07
with : dream, Nagasawa Nao, Nanase Hoshii, Kayo Aiko, Saito Michi, Harenchi Punch, Perfume, CHASE, Sato Hiroko, Ozeki Miho & Ooparts
Oh CHASE's PV "CHASE ME!" is avaible here : http://mullemeck.serveftp.org/jps_beta/index.php?page=details&id=26569
I'll do a review of it in my futur media article !
That's all for today I think !
°°°°°°°°°°°°°°°°°°°°°°°°°°°°°°°°°°°°°°°°°°°°°°°°°°°°°°°°°°°°°
°KIKIMASU° Otsuka Ai - Smily
°FREE TALK° I have a secret project with Hello!Project ! I can't tell more for the moment XD. Few person know what it is about XD