Let's begin this AKB48 article by the new members list (this is the Team B)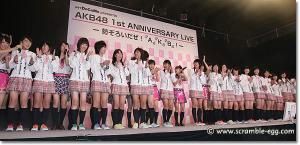 - Iso Reina (磯怜奈)
- Inoue Naru (井上奈瑠)
- Oota Aika (多田愛佳)
- Ootsuka Aki (大塚亜季)
- Kashiwagi Yuki (柏木由紀) ~~~> managed to get into 3rd round (semi finals) of the Morning Musume Happy 8 Audition
- Katayama Haruka (片山陽加)
- Kikuchi Ayaka (菊池彩香)
- Saotome Miki (早乙女美樹)
- Sakata Ryou (坂田涼)
- Tanabe Miku (田名部生来)
- Nakagawa Haruka (仲川遥香)
- Nakaya Sayaka (仲谷明香)
- Noguchi Reina (野口玲菜)
- Fujishima Maria Chika (藤島マリアチカ)
- Horie Mina (堀江聖夏)
- Matsuoka Yuki (松岡由紀)
- Yonezawa Rumi (米沢瑠美)
- Watanabe Mayu (渡辺麻友)
Now, AKB48 have 54 members ! But the group's name dosen't change.


Now, talk about their new single !
制服が邪魔をする (Seifuku ga Jama wo Suru)
2007/01/31
Normal edition : DFCL-1337 - 1,165
Limited edition : DFCL-1335 - 1,500
Tracklist :
1. 制服が邪魔をする (Seifuku ga Jama wo Suru) - lyrics (don't use without my persmission!!)
2. Virgin love
3. 制服が邪魔をする (Seifuku ga Jama wo Suru) - instrumental
4. Virgin love - instrumental
Downloads :
Seifuku ga Jama wo Suru (fan recording)
Tanjoubi no Yoru (fan recording)
Seifuku ga Jama wo Suru (PV preview)
Gameshow 2006 Live (view)
Credits : JPM.com
I didn't like the song at my 1st listening. But now I love it. As usual. This is always the same with AKB's songs:
1st listening : I don't like
After several listenings : I love the song
1 month ore more after : I don't like the song so muc anymore. It is ok but that's all.
I guess aroud February I won't likete song anymore XD
It is a more pop song than ther previous song. It is less cute, more mature.
They always wear school uniform... but dakest uniforms. I like their skirts. I am happy to see 3 of my favorites memberss in the single : Kojima Haruna, Minegishi Minami & Ono Erena
Almost (all) Skirt Hirari main singers are in this single.
Bigger version of NE cover
Bigger version of LE cover
Reminder : 1st live DVD :
First Concert Aitakatta - Hashira wa Nai ze! In Nihon Seinenkan DVD
2007/01/31
Shuffle edition : DFBL-7087 / 5,800
Normal edition : DFBL-7086 / 5,800
ஐஐஐஐஐஐஐஐஐஐஐஐஐஐஐஐஐஐஐஐஐஐஐஐஐஐஐஐஐஐஐஐஐஐஐஐஐஐஐஐ
ஐ
Kikimasu
ஐ
AKB48 - Seifuku ga jama wo suru
ஐ
Free Talk
ஐ
Currently obsessed on this new blog http://helloisland.blogspot.com/ . I amso happy to be one of the Wh0res !