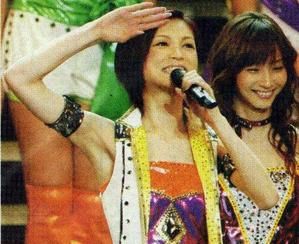 I was at work this morning. I had nothing to do si I listend music. It was Morning Musume Mega Mix 30.
I was thinking about how many years Yossie was in MM, her evolution ect..
I was so bored that I visited Jpop music and I read this :
"Yoshizawa Hitomi to graduate from Morning Musume this Spring"



I was almost choked.. Yossie used to be my Fav member (if the current line up)since I discovered MM 'in debut of 2005. I satyed like a stone in the front of my computer. That's must be a joke I though.

She'll graduate of MM on 2007.05.06 at the final concert of MM's Spring Tour which will take place at Saitama Super Arena.

But now... what'll happen for Morning Musume ?
I mean she was the last member of Golden Era so a very popular member. Now, Only Miki & Ai are really popular (not sure of that XD). We can expected that the sales and the public interest will dedrease more & more. But that's only supositions. On tan other hand, the sales can increase or not change. But in the popularity case....
Anyways that's a part of MM's heart who leave.


But thanks god, Tsunku said she will be a solo artist & will be in a new unit !
I didn't see her as a solo but if she can have success that's ok for me.
For the new unit, like a lot of fans, I want to see Yossie in an unit with Ayaka & Mai.
That would be possible. Ayaka is alone is Coconuts Musume. Mai will be alone in Country Musume in few days after Miuna & Asami's graduation from H!P.
But I bet Tsunku is going to surprise us as always.On good or on bad way ?

I hope she'll have a solo Photobook before her graduation !



Yossie we LOVE you and I wish you the best for your futur as a solo and on your new unit.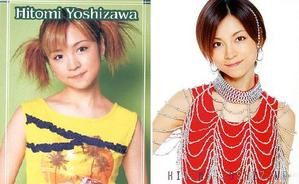 Morning Musume no Yossie April 16th 2000 - May 6th 2007

To the fans and whom it may concern:
You are always, always supporting [H!P], so thank you.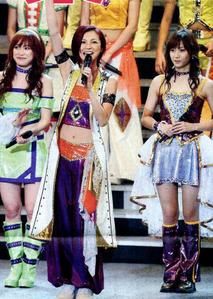 As we enter the New Year, we should all think about keeping healthy.
Well, today there is a notification regarding Morning Musume's Yoshizawa Hitomi.
In April 2000 she joined as a fourth generation member, and in May 2007 she will graduate from Morning Musume. The last day of Concert tour 2007 spring (~SEXY 8 BEAT~) will be her last day as a member of Morning Musume.
Her style in Morning Musume for 7 years has been based on a characteristic of funky singing ability, the ability to use rhythm in dance, (etc). Utilizing those, in Morning Musume, her unique character was shown.
This agenda was carried out successfully, as she had enough skill to carry it out.
You might think this is a "prideful graduation".
We expect that she can extend her personality with graduation from Morning Musume.
And, that personality is a new breath of fresh air to H!P.
After her graduation, we would like to challenge her with various chances such as solo opportunities as well as new unit opportunities.
After her graduation, the new leader will be Fujimoto Miki, subleader Takahashi Ai.
For now, we're focusing on making a hit out of Morning Musume's concert tour for this spring. Everyone's performances are our top priority, so please continue to support us.
Message from Yoshizawa Hitomi:
I will be graduating from Morning Musume on the final day of Morning Musume's spring tour at Saitama Super Arena on May 6th.
After graduation I will continue to be a member of Hello! Project.
During this 5 month interval and until it's changed, I will work hard as the role of Morning Musume's leader.
SOURCE: http://ikimasshoi.jphip.net/index.php/?p=802
¤¤¤¤¤¤¤¤¤¤¤¤¤¤¤¤¤¤¤¤¤¤¤¤¤¤¤¤¤¤¤¤¤¤¤¤¤¤¤¤¤¤¤¤¤¤¤¤¤
¤Listen¤ Perfume - Jenny wa gokigen no naname

¤Free Talk¤ I created my Myspace yesterday night ! I'll post the URL soon !