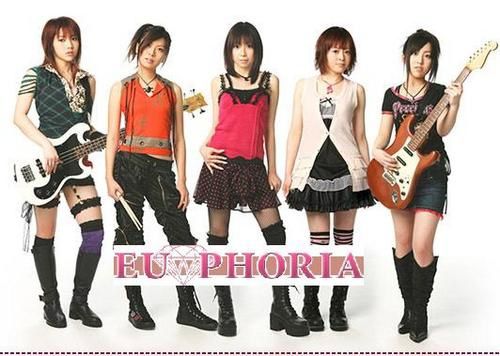 Profils (left to right):
Ayaka -BASS-
Sawa² (Sawa Sawa) -DRUMS-
1986.7.8
Shoco -VOCALS-
1987.12.18
Reona -KEYBOARD-
1987.11.10
Tomo² (Tomo Tomo) -GUITAR-
1988.9.10



Discography :




Debut single :

Single Bed / Hey!
2007.02.14

EU PHORIA is a brand new band. They are under the Vision Factory label (Avex) like Hinoi Team. There is an unique singer & 4 musicians (Reona, the KEYBOARD girl does the background vocals too). Their debut single was released on February 14th. The 3 songs have different styles : ballad, pop & rock.


Single Bed
(mp3)
This song is a cover of Tsunku's band (SharanQ) song. It's a pretty ballad. I could be a song for Momusu but the singer's voice change all that ! She has a powerful & very emotional voice.
It isn't a song which is easy to keep in head. I think we hear too much the guitar or the bass (I can't make the difference)
Hey!
(PV)
~~
(mp3)
My 2nd favorite song of this single. This is the 1st I listenned and at first I was ready to do not like this band so much. After several listenning I began to like it.
It is a very addictive song. This is the popish song of the single because the chorus is very hum.. I didn't want to say childish but I can't find my word. You'll see & understand what I wanted to say. The rest is pretty mature. The PV is simple. They are on a stage with the camera which turn around the stage. Close up are very energic with a Shoco who move a lot her head xD
Valentine Jealousy
(PV)
~~
(mp3)
MY FAVORITE SONG !!!!! Such beautiful. It is a rock song but not rock like Harenchi*Punch. It is very mature.
Shoco has a wonderful voice very powerful at the chorus.
The guitar "solo" of Tomo² is awsome !!!!!! She is such a good guitarist.
The PV is better than Hey!. They are in a church, playing & singing and the close up are in front of a door. Simple but good. Their clothes in Red/black/white are great. Especially Shoco's outfit.
I think this song would be perfect in 1st song.












*°;~;°*°;~;°*°;~;°*°;~;°*°
;~;°*°;~;°*°;~;°*°;~;°*°;~;°*°;~;°*°;~;°*°;~;°*
I can already say that I am a fan of this band. Their song are very good & they are talented because the compose/write their song themselves. They remind me a little ZONE.
My favorite members are Shoco the singer & Tomo² the guitarist because they are just so good.
I just preorder the CD+DVD edition on Cdjapan ! I can't wait to receive it.
I'll talk a lot about & support them now (notice that they are now at 4th of my idol ranking!). VIVA EU PHORIA !


*°;~;°*°;~;°*°;~;°*°;~;°*°;~;°*°;~;°*°;~;°*°;~;°*°;~;°*°;~;°*°;~;°*°;~;°*


*°;~;°*

LISTENING!
*°;~;°*

EU PHORIA - Hey!
*°;~;°*
FREE TALK!

*°;~;°* Hana <333 Greta <333 District <333 Sa6or <333 Sarki <333 Hide-chan <333