★☆★☆★☆★☆★☆★☆★☆★☆★☆★☆★☆★☆★☆★☆★☆★☆★☆★☆★☆★☆★☆★☆★☆★☆★☆★☆★☆★☆★☆★☆★☆★☆★☆★☆★☆★☆★☆★☆★
Morning Musume -

悲しみトワイライト

(Kanashimi Twilight)
1st the cover <333 They are just so rockish and beautiful. I love all the clother (but especially Eri, Yossie & Risa's ones). It remind a bit Roman costumes no ? I am so happy they have THIS costumes and not the horribles dress of the PV (see under the covers).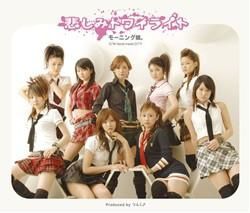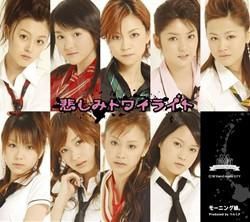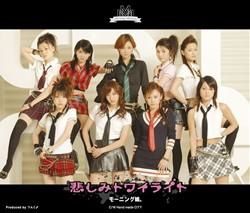 The PV just be aired few minutes ago ! I watched a preview a long time ago and I hated it. This is so cheap... cheaper
MM
PV ever. They dance in front of a pink background with the beautiful costumes if the covers. The dance is very energic and now I can say
MM
CAN DANCE. I've forgot that... especially with Egao YES nude. The moves are so great (especially in the musical brigde).
The dance is almost with

Yossie

in the center. In the beginning the middle and the final, the other member turn around of
Yossie
!
For the rest. The close up are with the same costumes and are very energic with a lot of camera mov
es (like in the dance part). Thanks god they have deleted

Aika

's horrible face (she tried to imitate the

Sexy Boy

close up I think XD).
We can see the wonderful members hairstyle which is totally beautiful (
Yossie
!

Sayu

!

Koha

!).

And we arrive at the useless part. The girls are 3 per 3 in a pink tube with HIDEOUS dresses. The just stay here and look the camera trying to be sexy or other thingy. Totally useless.
Oh there is a shot where members are sit on white cubes in little groups with cover costumes. They sing sit like that.

The PV is really a
Yossie
ode. She is in the center. She is the one wee see the more. That's normal, that's her last single but I don't remember we saw that with the others graduations.
I really hope that'll help her future solo career.
Godd luck
Yossie
, we'll miss you in MM.


Just one star and a last less because of the dress part and the cheap PV (even it is good ! It would be even better with a little story.)






★☆★☆★☆★☆★☆★☆★☆★☆★☆★☆★☆★☆★☆★☆★☆★☆★☆★☆★☆★☆★☆★☆★☆★☆★☆★☆★☆★☆★☆★☆★☆★☆★☆★☆★☆★☆★☆★☆★
Watch the PV
DL the PV
DL the PV rip
Watch the Music Station perf
★☆★☆★☆★☆★☆★☆★☆★☆★☆★☆★☆★☆★☆★☆★☆★☆★☆★☆★☆★☆★☆★☆★☆★☆★☆★☆★☆★☆★☆★☆★☆★☆★☆★☆★☆★☆★☆★☆★
☆★Listening!☆★ Morning Musume. - Kanashimi Twilight
☆★Free Talk☆★ 4 days week end ! It's like little holidays ^^